Furniture is the most important thing in the room. Without furniture, the room will look empty. If you have decided to make your own furniture or to refinish your old ones then you should sand the furniture before you add the paint.
After you sand them, the furniture will have a smooth finish and look, therefore the paint will look better and the furniture will look classy.
Doing this isn't hard, but still, you need a how to sand wood furniture guide. Luckily for you, we have decided to write down the steps that we take when we are sanding furniture.
Tools that you need:
The sander is the most important tool that you need to do this project. There are many different sander types. If you don't already have one or if you want to get a better one then make sure to check our list of recommendations for the best sanders for furniture.
We have listed the sander models that will give you better results when dealing with wood furniture. Except for a sander, you also need these things:
Sandpaper
Wood Filler
Dust Mask
Protective Gears
Ventilation ( If you are working inside )
Vacuum Cleaner
A rag or tack cloth
How to sand furniture ( 3 Steps ) :
Below, you will find the steps that you need to follow in order to refinish furniture. Make sure to read them at least three times before starting to work.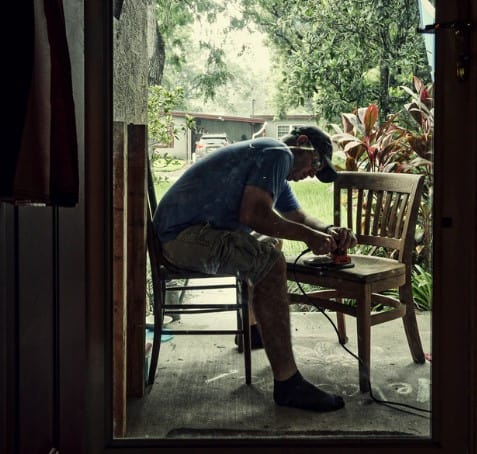 Step 1: Fix Scratches
Most of the old furniture will have scratches. The more the furniture has been used the more scratches it will have. If paint furniture that has deep scratches then these scratches will be more visible. That's why the first thing that you should do is to fix these scratches. Check the whole furniture if it has any uneven areas or cracks.
If you find uneven areas or cracks, fill them with a wood filler. Fill them up in a way that once you are done the scratches won't be visible again. After you fill every hole that you can fill, then let the wood filler to dry for a day or two.
Read more: Best Floor Sander
Step 2: Start Sanding
This whole process will be done with a sander. It is preferred to have a sander that is specially made for furniture or a palm sander. Palm sanders are easy to use and they are safe. Before powering up the sander, you should wear safety gear.  Protective eyes glasses and the dusk mask are very important because they keep your eyes and lungs safe from the dust that sanders produce.
Once you start the sander, then take the sandpaper and attach it to the bottom of the tool.  If the furniture is old or if its the first time that you are sanding that piece of furniture then it's recommended to use a lower grit number sandpaper.
The lower number means that the sandpaper is rougher and you will sand through easier.  It's easy to attach the sandpaper on most of the palm sanders, but if you are facing difficulties then you can use the help of Velcro.
At first, start moving your sander in circular movements. You have to do this trick at first because if the furniture has any irregular shaped areas then these areas will get smoother. If the wood fillers that you added before have dried then you can sand those areas too.
The whole process should go gently; don't add too much pressure with your hands and don't move the sander too fast – otherwise, you will leave marks at the end.
If you are dealing with flat surfaces then you have to be extra careful with corners. Don't sand the corners too much or you may end up with rounded corners. Sand them until the rough edges are gone.
Read more: Best Sander for Refinishing Cabinets
Step 3: Finishing
After you are done with the rough part, now it's time to add the surface a nice and smooth finish. To do this, you need to use different sandpaper, a smoother one.  The smoother sandpapers usually come with a higher grit number. For this process, you need to use sandpapers from 220-grit to 320-grit.
I usually start will 220-grit sandpaper, and most of the time that's the only sandpaper I use for the entire process (finishing). But, if the finishing doesn't come as smooth as you excepted then you can start using even higher grit sandpaper.
Once you choose the sandpaper then attach it again on the sander and start sanding. But, this time you have to move the sander in the direction of the grain of the wood.  Make sure that you sand the entire surface and give it a smooth finish before adding the paint.
If you are happy with the results then you need to take a vacuum cleaner and clean the whole area to remove any dust present. Most of the sanders will come with a dust collection system that will take care of the dust. But, just to make sure you have to use a vacuum cleaner too.
Now,  your furniture is ready to be painted.
Final Words
Now that you have all the information that you needed, you can start making your own furniture or refinishing the old ones. The whole process is very easy if you have the right guide. Make sure that if you are working inside (garage) that you have ventilation.
If not, then make sure that no one is inside except you, and you are wearing the safety goggles.
Learn more: